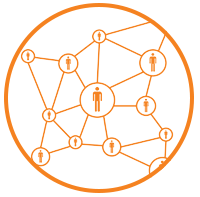 NOTE: Due to changes which Facebook announced in July 2017 related to the ability to customize link preview information (i.e. headline, image, description) in a share URL, our Facebook Social Share Generator is currently off-line and is being updated. The Social Share Generator for Twitter, LinkedIn, Pinterest and Email are still fully operational. We'll have the Facebook Social Share Generator back online shortly.
The MWD Social Share Generator is a free tool for creating social sharing links to include in emails and on web pages. You can use it with Facebook, Twitter, LinkedIn, Pinterest, and in emails.
When you use the Social Share Generator, you'll just need to enter information about the page you want to promote, and the Generator will create code that you can cut and paste and use where you need it.
Need to edit an existing share link? Use the Decoder! You can even convert links from other social media services. For example, paste a Facebook link into the Decoder on the Pinterest tab, and the Decoder will fill in the Pinterest fields with matching values from the link.
Found an issue with the generator? Tell us about it using the Contact form.